Obituary for Howard Wayne Hickman
HICKMAN, Howard Wayne
(Age 90)
Howard Wayne Hickman passed away on January 7, 2019. He was born on September 27, 1928 in Perry, Missouri. He said he grew up just down the road from where Mark Twain grew up. His parents were Walter William Hickman and Helen Jane Dickie.
Howard attended school at Santa Fe, Paris, and Hannibal, Missouri. Howard was the fourth of eight children. His brothers and sisters were Mary Doris, James Wallace ("Big Boy" or Jimmy), Ida Fern, Herbert Dale, Robert Lee (Bobby), Joanne and Richard Lee (Richie). They lived on the Old Cole Place and then moved to an old plantation where his father worked as a share cropper. Sometimes as children, they would skip school and make a bonfire in the woods and roast eggs and play all day. Howard said his mother was smarter than the kids and could always smell the wood smoke on them and knew what they had done. They owned a white horse called Old Myrtle. Five kids would ride Myrtle at the same time. Sometimes they would roll off the horse's back and play possum until Old Myrtle would nudge them with her nose to get them up.
Howard would pull up small sassafras trees and dry the roots to make tea. He also hunted squirrels, fished and trapped foxes. He picked gooseberries which he sold for five cents per gallon. He and his siblings also stole watermelons from the neighbors and were often shot at with shotguns (they always hoped it was rock salt). When they lived on the old plantation, there was a cupola at the top of the house. The kids used to climb up the curving lightening rod to get to the apples and tomatoes that were stored there. Their father could see the dirty footprints on the house siding and knew what they were doing. Jimmy had a dog named Old Bob who would walk ahead of the kids on the way to school and kill all the snakes that were in the road. The dog would wait outside the school all day for the kids to get out with his head resting on his crossed paws.
Howard left home at the age of fifteen. He picked peaches in Grand Junction, Colorado. He made $89.00 in eight and a half days and thought he was rich. He also worked as a produce manager in a grocery store. He worked his way across the country until he arrived in Spokane, Washington. He worked at the Bolero Bowling Alley on East Sprague setting pins. He would work two lanes at a time. He walked five miles to and from work to save the nine-cent bus fare. He also worked at Spokane Engine Repair. He enlisted in the U.S. Navy in 1945 as soon as he turned 17. He served on the U.S.S. Alabama. He was stationed both in Hawaii and Alaska and other places in between. While stationed in Alameda, California he helped to launch a Mars flying boat for Howard Hughes to practice flying in. He was present when Howard Hughes flew his Spruce Goose. He said it didn't get very high off the water and it didn't go very far – but it did fly. While in California, Howard also saw Eddy Bracken making a movie. And once he saw Gene Autry, Molly Brunet and Tadpole, sitting together in the Brown Derby restaurant in Hollywood, California. He got Gene Autry's autograph. Howard also danced with lots of starlets at the U.S.O. Club. He left the Navy in 1949.
When he got out of the service, he returned to Spokane. He worked at the Flour Mill and in 1950 he hired out for the Union Pacific Railroad and worked there until he retired on November 21, 1988, after 38 years of service. He was a brakeman and a conductor. He was well-known in Burke and Mullan, Idaho as the trainman who threw packages of gum to the little kids standing by the railroad tracks.
He met his wife, Elaine Inez Loe, when he was a patient in Sacred Heart Hospital. Elaine was a nursing student and a friend of Evelyn Grant, who was a good friend of Howard's sister, Doris. The girls went to visit the patient. The day he met Elaine, he said "that's the girl I'm going to marry". Howard and Elaine were married on May 17, 1953 in Oroville, Washington. They had three children – Glen Wayne Hickman, Sheree Louise Hickman Wilkinson, and Russell William Hickman. Howard bought his first house at North "G" Street. Then 12 years later, he moved his family to West Woodside Avenue. After the death of his wife, he briefly lived at the Lyons Crest apartments, then at Northpoint Retirement Center and then at The Academy retirement center.
Howard is survived by his brothers, Robert Hickman and Richard Hickman; his son, Russell Hickman; and his daughter, Sheree Wilkinson and her husband John; his grandson, John Wilkinson; and his daughter-in-law, Nancy Lauretta Hickman and her son, Ben Wahlder and his partner Carola Garth; her daughter, Kara Hamidi (children Sadia and Sadaf and husband Rafi Hamidi) and her daughter, Myra Miller (children, Henry and Hans and husband Ryan Miller) and by his former daughter-in-law, Diana Hickman. Howard was preceded in death by his wife, Elaine in 1996, his son, Glen Hickman in 2009 and his grandson, Ryan Hickman in 2006.
Howard's funeral will be held at Heritage Funeral Home on Sunday, January 13th at 2pm with a reception to follow. Interment will be at the Elk cemetery. In lieu of flowers, please make donations to the staff at the V.A. Community Living Center. Bring them some candy or donuts and thank them for taking such good care of Mr. Hickman in the last four months of his life.
To send flowers or a remembrance gift to the family of Howard Wayne Hickman, please visit our Tribute Store.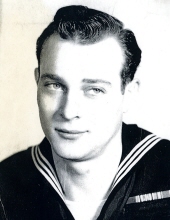 Thank you for sharing your
memory of Howard
Provide comfort by sending fresh
flowers from our local florist.
No thanks, please don't show me this again.