We are a part of your community.
It's our commitment to provide resources to the members of our community.
Below is a list of events, activities and seminars that we are involved in.
April 2018 Events
Easter Sunrise Service
Apr 1, 2018 06:30 AM to Apr 1, 2018 07:30 AM
Fairmount Memorial Association and Heritage Funeral Home invite you to take part in our annual Easter Sunrise Service.
On Sunday, April 1st, Fairmount Memorial Association, in conjunction with The Greater Spokane Association of Evangelical invite the Spokane community to join them in their annual Easter Sunrise Service. The sunrise service will be at 6:30am at the Cross of Inspiration at the top of Greenwood Memorial Terrace.
The Easter message will be given by Anthony Carollo and music will be performed by Zach Merkling and Chris Merkling.
Greenwood Memorial Terrace is located at 211 N Government Way, in Spokane.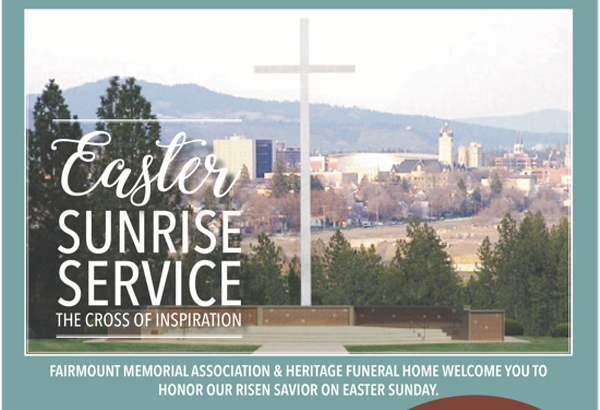 May 2018 Events
Memorial Day Weekend
May 27, 2018 09:00 AM to May 28, 2018 05:00 PM
Join us Memorial Day Weekend: May 26-28
- Military Memorabilia & Veteran Displays
- Free Family Concert
- Food Trucks
- Military Vehicles
- Honor Guard Presentation
-Fairchild Air Force Base Wing Commander and Honor Guard Presentation 2:00pm Monday, May 28
Free Refreshments All Weekend
December 2018 Events
Holiday Remembrance Service
Dec 1, 2018 06:30 PM to Dec 31, 2018
The staff at Heritage Funeral Home & Crematory understands that the holiday season can be a difficult time of year for those who have lost a loved one. This is why we are inviting you and your family to join us for a special memorial service and candlelight ceremony to remember the lives of the loved ones we have lost.
Holiday Remembrance Service
December 2018
TBD

508 N. Government Way
Spokane WA. 99224
RSVPto jadams@heritagefunerals.com or call (509) 838-8900.